Register for support
The first step is to register your new Netgate pfSense Security Gateway! By registering your device, you get two complimentary support incidents valid for up to one year from the date of purchase. In order to register you will first need the serial number, which can be found on the bottom of the appliance as shown below: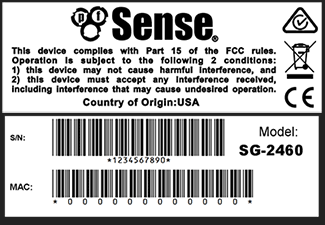 Get Started With Documentation
There are Quick Start Guides to help get you started with setting up your new pfSense Security Gateway. Before using your complimentary support incidents, check out our numerous other resources where you can get answers and gain knowledge about how to use and integrate a pfSense solution into your infrastructure.
Enhance Your Experience
pfSense Training - In-depth courses for increasing your knowledge of pfSense products and services.
pfSense Gold - Our premium membership subscription program, designed to provide special benefits to our members.
Professional Services - The expertise to recommend the best practices for your organization and maximize your investment.